A Local Custom Upholstery Shop Dedicated to Detail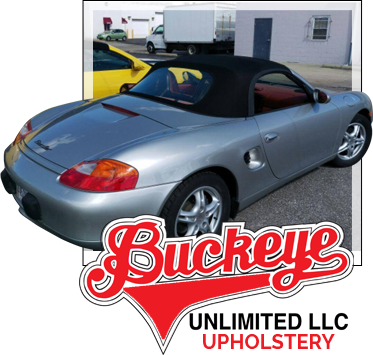 When your upholstery begins to fade, tear, or otherwise become tarnished, bring it to Buckeye Unlimited Upholstery. Our custom upholstery shop in Columbus, Ohio, serves the needs of private individuals and businesses alike. Our upholstery services range from basic repair to complete restoration. No matter what your needs may be, you can rely on us for great work at a fair price.
The beauty of upholstery lies in the details. That is why our custom upholstery shop always pays careful attention to detail, ensuring that even the most minor aspects of your fabric and stitching are in order and look amazing.
Our dedication to detail has earned us a reputation for beautiful and long-lasting results, as well as many loyal customers who count on us to keep their upholstery in perfect condition. The clients we serve love the quality of our upholstery services and the affordability of our rates. Visit our shop or give us a call and you will soon see why so many people and businesses choose us for their upholstery repair and restoration needs.
Highly Experienced in a Range of Upholstery Services
Restore your vehicle, boat, or furniture to like-new condition with help from the experts at our custom upholstery shop. Our family-owned-and-operated shop is backed by more than 55 years of business in a wide range of upholstery repair and restoration services. As a friendly and well-recognized establishment, we are trusted by clients throughout Ohio to deliver gorgeous results and competitive pricing on almost any project. In particular, we specialize in motor vehicles, watercraft, and commercial furniture.
Whether you drive the latest foreign model or an all-American classic, we are the shop for your interior needs. Our upholstery services cover vehicles of all makes and models, including motorcycles, trucks, and even golf carts. Boats and other watercraft are also welcome in our shop. We especially have a passion for restoring classic cars and have a loyal customer base of vintage vehicle owners. In fact, many regard us as the best in the business locally for classic car interior restoration.
In addition to cars and boats, we also do a lot of work for Buckeye State businesses—especially hotels and restaurants. If your business's furniture gets damaged or begins to show it's age, don't replace it. Bring it our custom upholstery shop for repair and restoration to save money.
Contact our custom upholstery shop for further details on our wide range of services and our competitive rates. We are based in Columbus, Ohio, and proudly serve clients throughout Central Ohio and the surrounding areas.